FOR THE 14 DECEMBER 2020 ECLIPSE,
SEE THIS PAGE!
ANNULAR SOLAR ECLIPSE – 21 JUNE 2020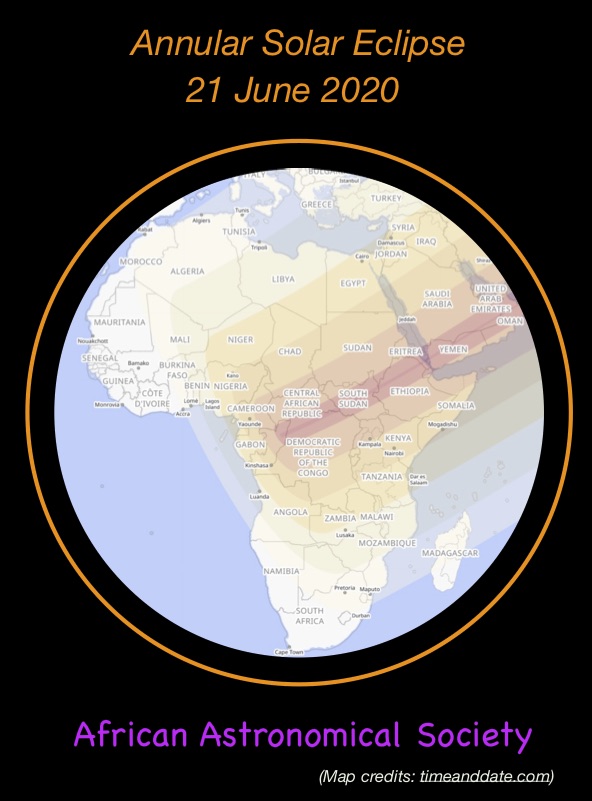 A solar eclipse will occur on the morning of 21 June 2020, which will be visible from central and east Africa. Locations directly under the shadow of the moon will see an annular eclipse for a few minutes during maximum, when a thin ring of the un-eclipsed sun can be seen. Other regions will see a partial eclipse.
It is dangerous to look at the sun directly with your naked eyes or through a telescope or binoculars. We bring you a handbook, a poster series and an android app which explains what the eclipse is, and when, where and how to see it.
ECLIPSE HANDBOOK FOR AFRICA
This handbook explains how eclipses are caused, where and when to see the 21 June eclipse in Africa, the timings for each country, easy and safe methods to see the eclipse, and online resources and country-specific contact information for you.
Do share this handbook widely. The contents are also available in separate sections through the side menu.
Coming soon: Amharic version!
The English handbook is 6.3 MB and can be downloaded from here.
The Amharic handbook is 8 MB and can be downloaded from here.
The Kiswahili handbook is 6.3 MB and can be downloaded from here.
ECLIPSE POSTER SERIES
Download the png images of posters 1, 2, 3, 4, 5, 6, 7
Download higher resolution (1.2 MB each) pdf files of posters 1, 2, 3, 4, 5, 6, 7
ONLINE BROADCAST OF THE ECLIPSE
Many groups in Africa and around the world will be broadcasting the eclipse online. A non-exhaustive list is being maintained at this page. Please let us know if you hear of more.
ANDROID APP FOR THE ECLIPSE
A free Android App on the eclipse, developed by Alok Mandavgane for the Astronomical Society of India, and adapted for Africa. Now available in English, Amharic and Kiswahili. Download and share with friends and family!
ECLIPSE PODCAST ON COSMIC SAVANNAH
You can now listen to the podcast by Cosmic Savannah on the upcoming eclipse featuring Alemiye Mamo (coordinator of East African ROAD), Prospery Simpemba (coordinator of Southern African ROAD) and Niruj Mohan Ramanujam (AfAS).
ANNULAR ECLIPSE SONG
ECLIPSE PIN-HOLE CHALLENGE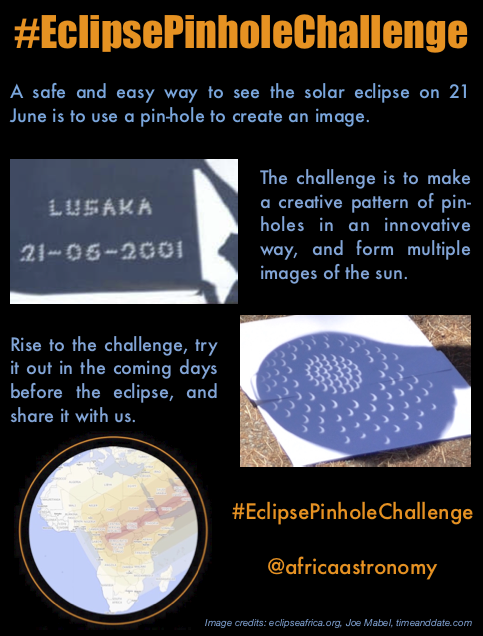 Make your own pin-hole pattern, image the multiple images of the sun in the coming days, post your picture on facebook with #EclipsePinholeChallenge and tag us!
#EclipsePinholeChallenge
Pin-hole projection is the easiest and safest way to see the eclipsed sun. Our challenge is to come up with creative patterns of pinholes on innovative material that can be found where you live.