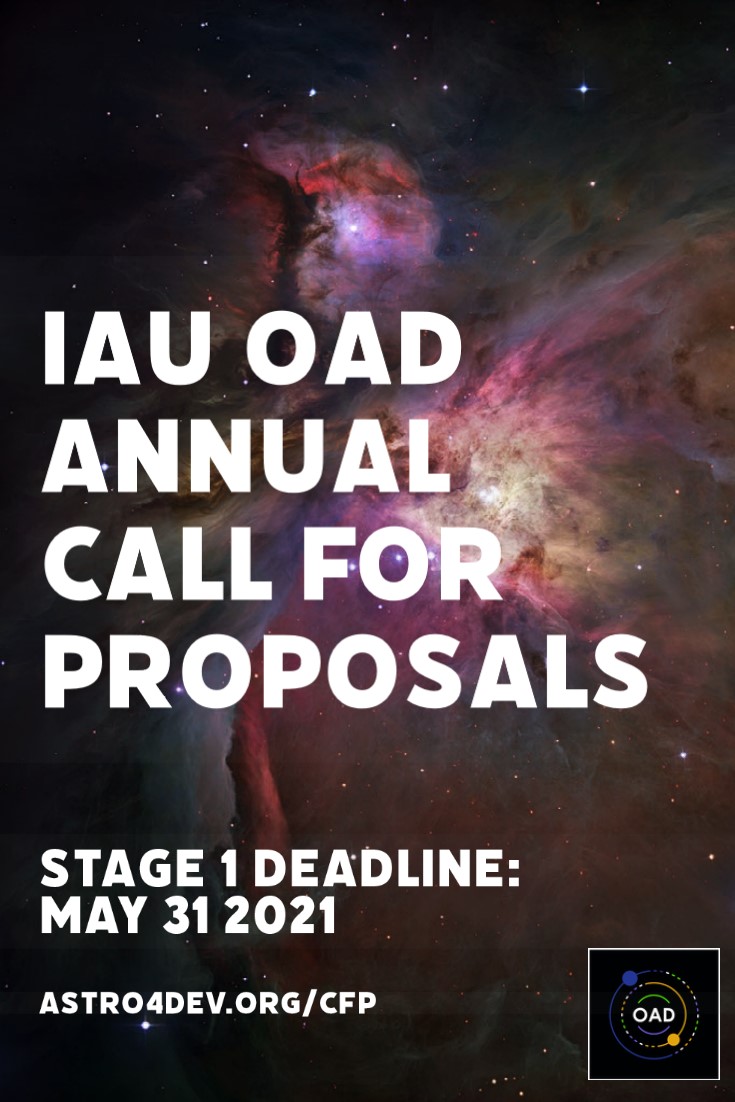 The Office of Astronomy for Development (OAD) is glad to announce the launch of its 10th Annual Call for Proposals for projects that use astronomy as a tool to address one or more challenges related to sustainable development. The call for proposals is open to anyone from anywhere in the world. It is conducted in two stages, where only a limited number of proposals from Stage 1 will be invited to submit a Stage 2 proposal. Since 2012, the OAD has granted around 1 million Euros to 200+ projects through its calls for proposals. 
We have made a few changes to the 2021 call based on feedback from applicants, evaluators, and other stakeholders.

1. Proposal writing support: We encourage anyone who is not confident or familiar with writing proposals to request this support. We will match you with an astronomer or expert to guide you in writing a proposal. All proposals received will be evaluated in the same way. The review panel will not know whether you received Proposal Writing Support or not. 
Email your request to info@astro4dev.org by May 14 – http://www.astro4dev.org/cfp/support-to-proposers/

2. Multi-year projects: you may now apply for a grant to run a project for up to 3 years. This step is meant to support projects which cannot effectively be completed in 1 year (but not for repeating the same workshop/school/activity for 3 years). Funds for these projects will be released on an annual basis subject to a performance review by the OAD. 

3. New, additional themes have been included in the call on COVID-19 as well as Tech & Astro4dev. 

Deadline for Stage 1 is May 31, 2021 (midnight UTC-12).Contact: info@astro4dev.org 
More information and application: http://www.astro4dev.org/cfp/